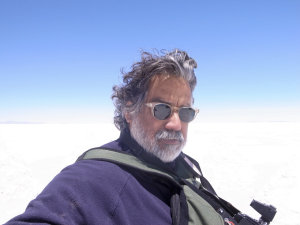 Á
ngel Franco was born in 1951 in the South Bronx, New York. He began his career as a professional photographer at the age of 18. After winning a full scholarship and obtaining a BFA in photography from the renowned School of Visual Arts in New York City, he firmly established himself in the photographic community, and as a result, was hired as a staff photographer by the New York Times.
While bringing his unique vision to documentary photography to the Times, Mr. Franco continued to pursue his own personal projects which have taken him around the world. In addition to still photography, he has filmed documentary videos for the Discovery Times channel on subjects in Brazil, Ireland, and New York as well as a video report on Guantanamo's detainees for the News Hour. The documentary short "Louie Rivera searches for his wife-9/11" was aired on The New York Times Web site.
Most recently, Mr. Franco exhibited "Invisible New Yorkers" as a one person show at the The Widner Gallery at Trinity College in Hartford CT. His work has been exhibited in numerous group shows: The International Center of Photography, The Corcoran Gallery in Washington, D.C., The George Eastman House and the Museum of the City of New York. He is a recipient of grants from the National Endowment for the Arts, the New York Foundation for the Arts and The Concerned Photographers Fund. He was awarded the prestigious Leica Medal of Excellence and was a recipient of the Pulitzer Prize, as well as multiple nominee.
Mr. Franco's work is in the permanent collection of the Museum of Modern Art and The George Eastman House as well as private collections. He was an adjunct professor at New York University, an instructor at the International Center of Photography and the New School for Social Research. Mr. Franco was the photographer for the "This Land" column and is currently a senior photographer at The New York Times.
He continues to work on many types of photography spanning new digital technology to experimenting with historic processes.